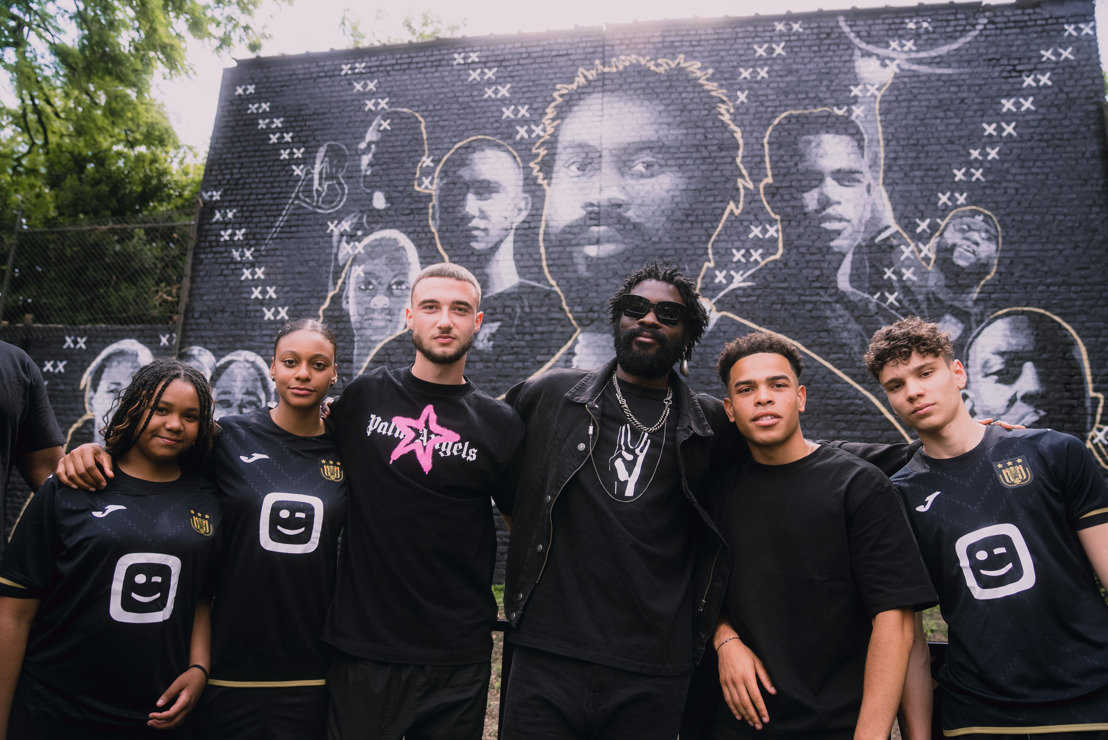 RSCA and DAMSO officially open their 'Theatre of Talents'
A public sports pitch in the heart of the commune of Anderlecht, designed for young talents from Brussels.
Royal Sporting Club Anderlecht and DAMSO share a passion for Brussels' talents. This was expressed last season in a unique shirt that the club and artist designed together. With more than 15,000 shirts sold, it even became the most popular RSCA shirt ever. Wednesday saw the next step in the collaboration: the inauguration of the "Theatre of Talents". A public sports pitch in the heart of the commune of Anderlecht, designed for young talents from Brussels.
Less than a mile away from the stadium, the agora in Anderlecht was constructed thanks to the support of the commune and the Brussels Region. Telenet provided free wifi for the youngsters. On top of that, a beautiful mural serves as a backdrop for this new hotspot. Besides DAMSO, the mural features three of our own Brussels' artists - Zeno Debast, Mario Stroeykens and Marco Kana - and young female players from our youth academy. The mural was created by street artist Bart Smeets, who previously immortalized Youri Tielemans on a mural near the stadium.
This project is also part of the collaboration between RSCA, DAMSO and Telenet and is a new expression of our shared ambition to promote inclusion, equal opportunities and diversity in all of Brussels through sport - and football in particular.
At the inauguration, artist DAMSO was also present. As an icon of the Belgian music scene - DAMSO is the most streamed Belgian artist in recent years -, his visit turned out be a wonderful surprise for all kids that were present. Anderlecht players Zeno Debast and Mario Stroeykens were also present to meet the youngsters from the district and officially inaugurate the new venue.
Anderlecht's CEO Non-Sports Kenneth Bornauw:
"Anchoring the club here in Anderlecht and in the whole of our capital is a priority for the club. This project is one of the many manifestations of our continuous cooperation with local and regional entities and partners such as Telenet. We are thus engaging directly with the residents of our commune and with a new generation of fans."
Chief Marketing Officer Tim Borguet:
"RSC Anderlecht stands for talent on and off the pitch and that talent should be available for everyone to discover and develop. More than ever, the club wants to take up that facilitating and aspirational role in our society. The collaboration with DAMSO - an inspiration for young people in Brussels, Belgium and far beyond - is a great case in point."
DAMSO:
"We started this journey with the club over a year ago, out of a shared love for Brussels and a shared ambition to help progress young talents from our capital. Today, this results in this 'Theatre of Talents' in the heart of the commune. I welcome this kind of initiative and I hope that many more will follow in Anderlecht and other areas of the city. VieSurNous."
Sylvie Irzi - VP Brand, Communication & Reputation Telenet:
"It is a crucial part of our intrinsic values to support projects like these, that boost self-esteem, promote talent and bring different communities together. With the power of sport to unite and connect people, we have all the elements to obtain a better future for everyone."
Fabrice Cumps - Mayor Anderlecht:
"The transformation of the Rauter Park agora demonstrates our desire, shared with all the public and private partners in our commune, to provide quality public spaces for young people. The collaboration between RSC Anderlecht and the commune is excellent. Our commune, with its rich diversity, is bursting with young talent. It's important that together we develop places where they can practice their favorite sport, meet each other, and to give them quite simply a place where they can flourish."